This event for freelancers and folks with flexible schedules! Head to Queens to learn to mountain bike with Andree Sanders and Joanie Emerson. They'll come with bikes, helmets and a day of learning to mountain bike. No mountain biking experience required. 18+ only.
Coaching/ Leader: Andree Sanders –  NICA NY Level 3 Coach, Level1 BICP Coach, LCI
Co- Leader: Joanie Emerson – 15 year veteran mountain biker
Please note: the proceeds from your experience go towards TFK's summer programming!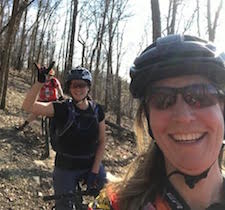 About the host organization: 
Trips for Kids Metro New York provides mountain bike outings and environmental education to kids who would not otherwise have these opportunities.  We use the bike as a tool to teach lessons in personal responsibility, achievement and environmental awareness.